It has been a fun undertaking this year to write for Church2.0 - the blog. In addition to opening up a channel for talking about some of the more interesting ministry-applicable tools, it's been fun working as part of the C2.0 writing team.

It's not easy picking a favorite post. Like Kevin, I also like Jott. I spend a lot of time on the road in my day job and find Jott incredibly (as in what did I do without it?) helpful for noting ideas and making reminders that I'm sure I'd forget before I get back to the office.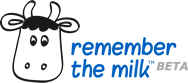 "My nominee for favorite tool is Remember the Milk."
[Chad Lemon, Contributor, C2.0 - the blog]


Included as a gadget on my iGoogle page (along with Jott and a couple other Google tools), I use Remember the Milk daily to keep track of upcoming tasks of all kinds and recurring tasks like bills.

RTM has an unexpectedly extensive list features - you can even use Jott to add reminders directly to your RTM to do list - two of our favorite tools playing together!

Find out more about some of the neat RTM features in RTM's end-of-the-year wrap-up. Firefox and Gmail users won't want to miss the RTM in Gmail extension for Firefox.

Update 1.2.08: Working on planning for next Sunday, I became keenly aware that I can't afford to leave Planning Center Online off my favorites list for the year. Even though I don't use it everyday, I would sorely miss it if I didn't have it. So, Planning Center Online is officially my second nominee for favorite tool! Hey, nobody said I wasn't allowed two.