I've been trying to figure out a good ToDo list tool for keeping my tasks for work, family, church, and even Church 2.0 all together in one place. I tried Google Calendars for a while for this purpose and it worked OK, but didn't find it ideal for this purpose. But that's the best part of the "everything 2.0" phase: If the tool you need isn't developed yet, wait a few minutes and it will be.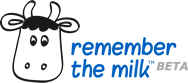 I'm test driving Remember the Milk and finding it pretty likable. What makes this good tool GREAT is that it does so much more than just list tasks. Useful stuff.

Add your tasks through:

Email
iGoogle module
Remember the Milk website
Get reminders via:
"Receive reminders via email, SMS, and instant messenger (AIM, Gadu-Gadu, Google Talk, ICQ, Jabber, MSN, Skype and Yahoo! are all supported)."
Beyond that, you can
share tasks
with your ministry team, export tasks to your Apple iCal or Google Calendar, and tag and search items.
One other cool element is the ability to
attach a location
to a task. I could see this geographic view as being really handy when organizing home visits and other out-of-the-office appointments.
On a related note: Looking for a few very practical tips on
more doable ToDo lists
? See this
great resource
by way of LifeHacker.